Quick Links
Site Rules
Contact Staff
Celestia: astral@rpgdragons.com Baldirak: baldirak@rpgdragons.com
Latest topics
»
Goodbye, DRF
by
Attor
Yesterday at 9:17 pm
»
Time To Rebuild (Open/Twilight Imperium.)
by
Baldirak Sapiens Draco
Tue Jun 06, 2023 8:27 pm
»
Garden of Shadows [Tenebris, Sting, + family]
by
Cyclone and Typhoon
Tue Jun 06, 2023 1:55 pm
»
Memories Frozen in Monochrome [Tenebris]
by
Tenebris
Tue Jun 06, 2023 6:44 am
»
The Sunset's Shadow
by
Attor
Fri Jun 02, 2023 2:54 pm
»
Where Blood Don't Run (Incus/Tenebris)
by
Incus
Fri Jun 02, 2023 2:19 pm
»
When Kryo Goes to War (Read Only)
by
Svadilfare
Fri May 12, 2023 2:37 pm
»
Skycrossed Meeting (Lilith)
by
Wake
Mon May 08, 2023 7:16 pm
»
Pinkshade Reunion [OPEN TO ALL]
by
Attor
Mon May 08, 2023 12:37 am
»
A Fistful of Temptation [Tenebris]
by
Tenebris
Sat May 06, 2023 1:44 pm
»
In Shadows [Searching for the Kakos Gem]
by
Soshi
Sat May 06, 2023 11:43 am
»
Awakening
by
Baldirak Sapiens Draco
Sat May 06, 2023 9:08 am
»
A New Winter Forward (Icewing Lore)
by
Snowblaze
Fri May 05, 2023 1:51 pm
»
Major Ability for Volter: Pherokinesis
by
Baldirak Sapiens Draco
Thu May 04, 2023 3:39 pm
»
Styrkur, Reborn From Ice
by
Baldirak Sapiens Draco
Thu May 04, 2023 9:34 am
»
Dolus
by
Baldirak Sapiens Draco
Thu May 04, 2023 9:31 am
»
Volter the Tattler
by
Baldirak Sapiens Draco
Thu May 04, 2023 9:30 am
»
Belladonna the Flos
by
Baldirak Sapiens Draco
Thu May 04, 2023 9:26 am
»
Totally Normal Humans (Paradox)
by
Soshi
Wed May 03, 2023 1:27 pm
»
Searching and Planning (Open, Humans)
by
Soshi
Tue May 02, 2023 6:03 pm
»
Let There Be Pancakes (Read Only)
by
Kelarth
Mon May 01, 2023 8:06 pm
»
Stroud the Eldest
by
Baldirak Sapiens Draco
Mon May 01, 2023 1:33 pm
»
Tharasis App
by
Baldirak Sapiens Draco
Wed Apr 26, 2023 4:13 pm
»
Xyrik Dax
by
Wake
Tue Apr 25, 2023 6:48 pm
»
The Elemental Gems (Read Only)
by
Soshi
Tue Apr 25, 2023 6:32 pm
Top posting users this month
Who is online?
In total there are
14
users online :: 0 Registered, 0 Hidden and 14 Guests
None
Most users ever online was
315
on Mon Nov 04, 2019 1:22 pm
So, undergoing along with the Revamp for the Lore of the NightWing's this is the first of a few updates. Below one can see the NightWing central homeland at the heart of the Empire. A few lore locations have been placed upon the map to better give someone perspective in their RP to aid in getting a more in depth understanding of the land as their character knows it.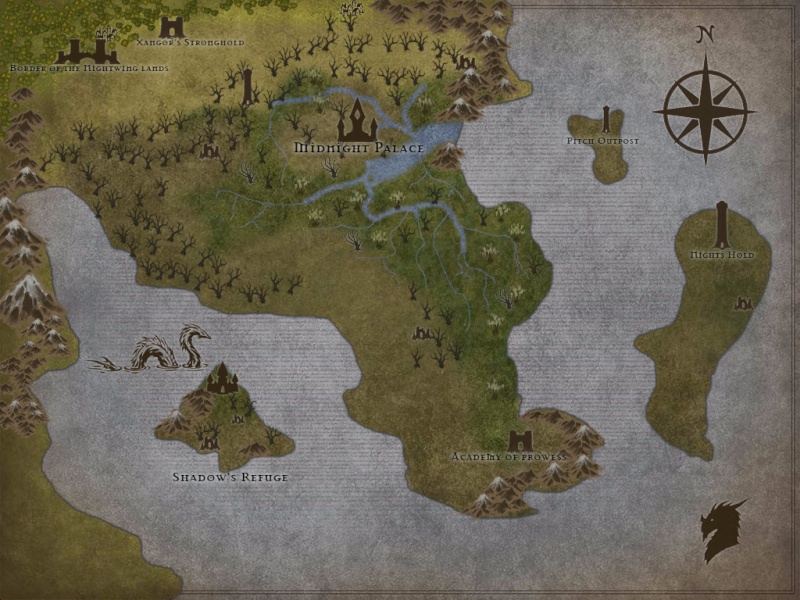 Tenebris

Archon of the Nightwings







Posts

: 617


Reputation

: 7


Age

: 27



NightWing mainland.

#OccyApproved

Oculus

NightWing Leader








Posts

: 457


Reputation

: 8


Age

: 29



Similar topics
---
Permissions in this forum:
You
cannot
reply to topics in this forum