Quick Links
Site Rules
Contact Staff
Celestia: astral@rpgdragons.com Baldirak: baldirak@rpgdragons.com
Latest topics
»
Totally Normal Humans (Paradox)
by
Discord
Wed Mar 22, 2023 9:47 am
»
Lost memory
by
malaki
Sun Mar 12, 2023 2:41 pm
»
Awakening
by
malaki
Thu Mar 02, 2023 5:31 am
»
Searching and Planning (Open, Humans)
by
Soshi
Mon Jan 23, 2023 4:43 pm
»
Racun the poison wielder
by
Baldirak Sapiens Draco
Sat Jan 21, 2023 3:32 pm
»
Dragon Uprising
by
Noctis Umbra
Sat Jan 21, 2023 1:47 pm
»
Foray Into The Frozen North (Tharasis) DP Submission
by
Noctis Umbra
Sat Jan 21, 2023 1:31 pm
»
Two Heads are Better than One (Twilight Imperium)
by
Noctis Umbra
Sat Jan 21, 2023 1:29 pm
»
Order of Starlight's Activity Check/Update
by
Jurragon Ignis
Thu Jan 19, 2023 7:22 am
»
The moon beckons you...a little forcefully [Tribe Leaders]
by
Tenebris
Wed Jan 18, 2023 12:19 pm
»
Prayer to a Goddess [Human Responses]
by
Súl Iolar
Thu Jan 12, 2023 1:56 pm
»
Skycrossed Meeting (Lilith)
by
Wake
Tue Jan 10, 2023 3:37 pm
»
Pillar of Earth, Lake of Fire (Open to Twilight Imperium)
by
Lilith
Mon Jan 09, 2023 4:59 pm
»
Of Illumination and Trickery (LightWing Lore)
by
Wylandriah
Sun Jan 08, 2023 7:42 pm
»
Prayer to a Goddess [Dragon Responses]
by
Zylah
Fri Jan 06, 2023 9:12 pm
»
Question
by
Baldirak Sapiens Draco
Sun Jan 01, 2023 12:58 am
»
Prayer to a Goddess [Read Only]
by
Astral
Wed Dec 28, 2022 7:29 pm
»
Question
by
Richard
Wed Sep 28, 2022 4:41 pm
»
Fishing (solo)
by
malaki
Sun Sep 11, 2022 5:27 pm
»
Quite some time
by
Bassasail
Sat Sep 03, 2022 1:56 pm
»
Tharasis App
by
Baldirak Sapiens Draco
Thu Sep 01, 2022 10:52 pm
»
Where Blood Don't Run (Incus/Tenebris)
by
Incus
Tue Aug 30, 2022 10:20 am
»
A Fistful of Temptation [Tenebris]
by
Sting
Fri Aug 26, 2022 12:20 pm
»
Harsh Realities (Open to Humans)
by
Soshi
Thu Aug 25, 2022 2:31 pm
»
I Solemnly Swear I Am Up To No Good [OPEN]
by
Cyclone and Typhoon
Wed Aug 24, 2022 6:32 pm
Top posting users this month
Who is online?
In total there are
8
users online :: 0 Registered, 0 Hidden and 8 Guests
None
Most users ever online was
315
on Mon Nov 04, 2019 1:22 pm
Type of Character:
Dragon
Link to Character List Page:
(Optional if is your first character. Otherwise link us and make sure your character is listed there. If you don't already have one you can create one here. http://www.rpgdragons.org/f84-character-registration)
Personal InfoName:
Equinox
Alias:
The Vampire, Monster, Beast, etc.
Age:
28 years
Gender:
Female
Sexuality:
Heterosexual
Personality:
Previously a happy and content dragon, Equinox now believes she is a hated monster, finding little joy in everything. She is rather cynical and being around her tends to make one depressed since she's one of those people who are never happy and always look on the bad side of things. Equinox often finds ways to express her views and opinions, but it's not very often that it's shown. She is a dragon who is standoffish and stays away from others. She is afraid of meeting new people in fear of being shunned and scaring them away.
However, despite her fear rooting from her Vampirism, Equinox does not believe her condition is a bad thing. She is happy that she has it and is even honored since she's the only vampire left on Pyyria. However, it is like a bad luck charm, but it's often Equinox herself who brings bad fortune to herself rather than her condition.
The only emotion Equinox is capable of feeling is fear. Otherwise, she is completely emotionless and has no feelings of joy or sadness despite always looking at the bad side of things. If Equinox's appearance isn't unnerving to you, then her blank slate of an attitude should be. However, there is a way to unlock her emotions so she could feel again. . .
Fears:
~Being hated or feared
~Never being able to feel emotions
Strengths:
~Even though she's a hybrid of the SkyWings, she can still go pretty fast. Sure, not as fast as Purebreds but still fast.
~Equinox's dark scales help her blend in well at night.
~She is a clever little thing and can solve puzzles and brain teasers with ease. This also means she can read the facial expressions of others well.
Weaknesses:
~Like all vampires, Equinox has a drastic weakness to fire and sunlight. She burns VERY easily and cannot heal her wounds when she's out in the sun. Much like the legend with Icarus, if she flies too close to the sun her wings can burn. This also gives her a weakness to FireWings, despite her having a teeny tiny drop of FireWing blood in her own veins.
~Equinox's monstrous appearance can scare others away, with her ugly burn marks and intimidating fangs. This makes her almost unapproachable.
~As said before, Equinox lacks emotions, so she doesn't feel sympathy for others and is rather uncaring.
General AppearanceHeight:
20 feet
Scales:
Black, white, and red
Eyes:
Red
Appearance:
Equinox looks nothing like her former self: a pretty pink dragon. Now, due to never feeding off blood for years, she has a twisted look that makes her existence as a monster obvious. She still has the lean, slender build of most SkyWings but doesn't have the common yellow scales of them. Her primary color is black with a white underbelly. She has white swirl marks on her hips, along with crimson freckles. Red stripes go down her neck and tail. Her back has a line of small red spines, but it ends before her tail begins. Her tail ends with a tip that resembles a cross. Equinox has a particular white mark on her face that resembles a skull, and it covers her whole snout. She has red horns. Like all SkyWings, her wings are very large. Her wing membranes are red. One can see Equinox's ribs as well, and she has ugly burn marks all over her from a particular point in her history. Her fangs go past her lower lip.
Equinox carries a trait from her mother into her vampirism: a simple stamp in the center of her chest. This stamp is more like an opal imbedded into her. Equinox cannot remove it herself. . . But someone she trusts can. This person would be a mate or a potential mate, and once this thing is removed is when Equinox will be able to feel emotions once again.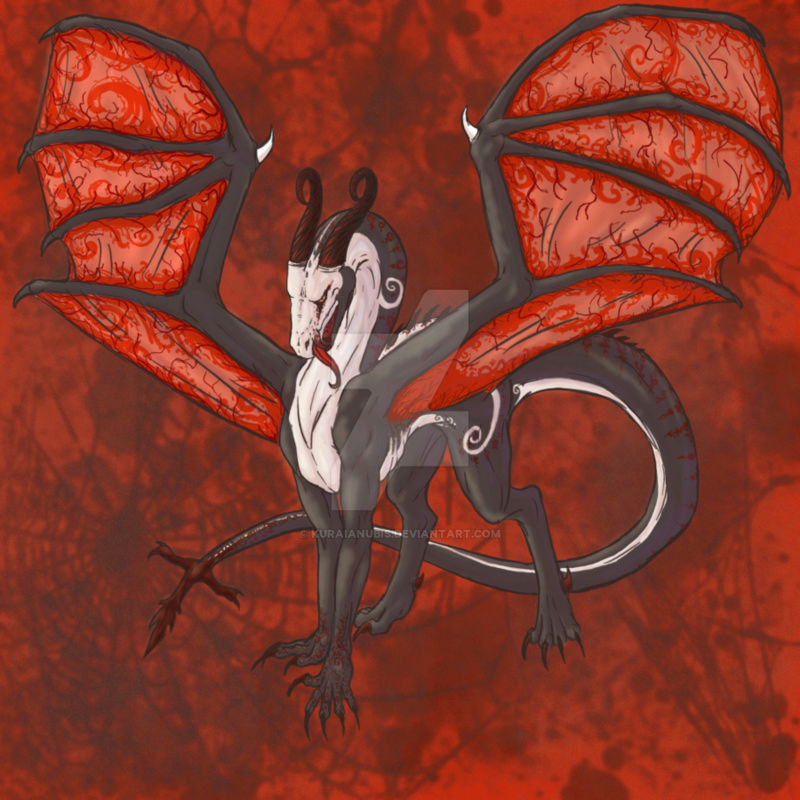 Tribe Information and StatusTribe:
None.
Inheritance:
100% Vampire, 50% NightWing, 49% SkyWing, 1% FireWing
Rank:
Rogue
Family:
Moka and Akreious were Equinox's parents, but they're both presumed dead. She also has a brother who disappeared named Jemith. Equinox is the niece/cousin to the goddess Astral/Celestia through her father Akreious, who was her half-brother.
(These family members aren't NPCs. Most of them are inactive.)
Mate:
Probably never.
Hatchlings:
Probably not. Who would want baby vampires running around everywhere biting people?
Skills and AbilitiesSpecial Abilities:
(Any unique abilities that your dragon has that no other dragon has? Make balanced powers)
Combat Style:
(How does your dragon fight? Does he/she have a specific style of fighting?)
BackgroundHistory:
Equinox was hatched alongside her brother in the SkyWing Tribe to Moka and Akreious. Her brother disappeared at a very young age as did her mother, which made Equinox be raised alone by her father. She was hatched during the reign of Kokoro, and during her younger years her father was deemed Lieutenant of the SkyWings. However, he disappeared as well, which made Equinox alone. During her Trainee days she somehow stumbled across her mother again, but she disappeared once again.
See, Moka was perhaps the only vampire in Pyyria, and Equinox was given that unique trait through genes. In her days as a Trainee keeping her hunger for blood sated was not that tough. However, as she grew up, she realized how biting the necks of her fellow SkyWings could be very harmful, so Equinox stopped feeding for the good of her Tribe. What she didn't know was that what would happen to a vampire after a long time foregoing a meal of blood.
Equinox's whole appearance changed drastically seemingly overnight, and she looked like a monster. Afraid of what her fellow SkyWings would think, she flew away before anyone could see her, but there was one problem. Vampires have a weakness to the sun, so while Equinox was flying the sunlight burned her scales, leaving scars for her to remember. She found a home within the rogue lands but can only go out at nighttime. Equinox is living a painful, emotionless life. A vampire goes in a lot of pain and drastic changes when they haven't fed in a long time. Over the years she lost her emotions. What she doesn't know is that after decades without blood, a vampire can go insane.
RP Sample:
(Provide a RP sample of how you would roleplay. Optional)

Equinox

SkyWing Hatchling





Posts

: 79


Reputation

: 0



Similar topics
---
Permissions in this forum:
You
cannot
reply to topics in this forum