Quick Links
Site Rules
Contact Staff
Celestia: astral@rpgdragons.com Baldirak: baldirak@rpgdragons.com
Latest topics
»
Time To Rebuild (Open/Twilight Imperium.)
by
Baldirak Sapiens Draco
Yesterday at 8:27 pm
»
Garden of Shadows [Tenebris, Sting, + family]
by
Cyclone and Typhoon
Yesterday at 1:55 pm
»
Memories Frozen in Monochrome [Tenebris]
by
Tenebris
Yesterday at 6:44 am
»
The Sunset's Shadow
by
Attor
Fri Jun 02, 2023 2:54 pm
»
Where Blood Don't Run (Incus/Tenebris)
by
Incus
Fri Jun 02, 2023 2:19 pm
»
When Kryo Goes to War (Read Only)
by
Svadilfare
Fri May 12, 2023 2:37 pm
»
Skycrossed Meeting (Lilith)
by
Wake
Mon May 08, 2023 7:16 pm
»
Pinkshade Reunion [OPEN TO ALL]
by
Attor
Mon May 08, 2023 12:37 am
»
A Fistful of Temptation [Tenebris]
by
Tenebris
Sat May 06, 2023 1:44 pm
»
In Shadows [Searching for the Kakos Gem]
by
Soshi
Sat May 06, 2023 11:43 am
»
Awakening
by
Baldirak Sapiens Draco
Sat May 06, 2023 9:08 am
»
A New Winter Forward (Icewing Lore)
by
Snowblaze
Fri May 05, 2023 1:51 pm
»
Major Ability for Volter: Pherokinesis
by
Baldirak Sapiens Draco
Thu May 04, 2023 3:39 pm
»
Styrkur, Reborn From Ice
by
Baldirak Sapiens Draco
Thu May 04, 2023 9:34 am
»
Dolus
by
Baldirak Sapiens Draco
Thu May 04, 2023 9:31 am
»
Volter the Tattler
by
Baldirak Sapiens Draco
Thu May 04, 2023 9:30 am
»
Belladonna the Flos
by
Baldirak Sapiens Draco
Thu May 04, 2023 9:26 am
»
Totally Normal Humans (Paradox)
by
Soshi
Wed May 03, 2023 1:27 pm
»
Searching and Planning (Open, Humans)
by
Soshi
Tue May 02, 2023 6:03 pm
»
Let There Be Pancakes (Read Only)
by
Kelarth
Mon May 01, 2023 8:06 pm
»
Stroud the Eldest
by
Baldirak Sapiens Draco
Mon May 01, 2023 1:33 pm
»
Tharasis App
by
Baldirak Sapiens Draco
Wed Apr 26, 2023 4:13 pm
»
Xyrik Dax
by
Wake
Tue Apr 25, 2023 6:48 pm
»
The Elemental Gems (Read Only)
by
Soshi
Tue Apr 25, 2023 6:32 pm
»
Briar
by
Baldirak Sapiens Draco
Mon Apr 24, 2023 3:24 pm
Top posting users this month
Who is online?
In total there are
3
users online :: 0 Registered, 0 Hidden and 3 Guests :: 1 Bot
None
Most users ever online was
315
on Mon Nov 04, 2019 1:22 pm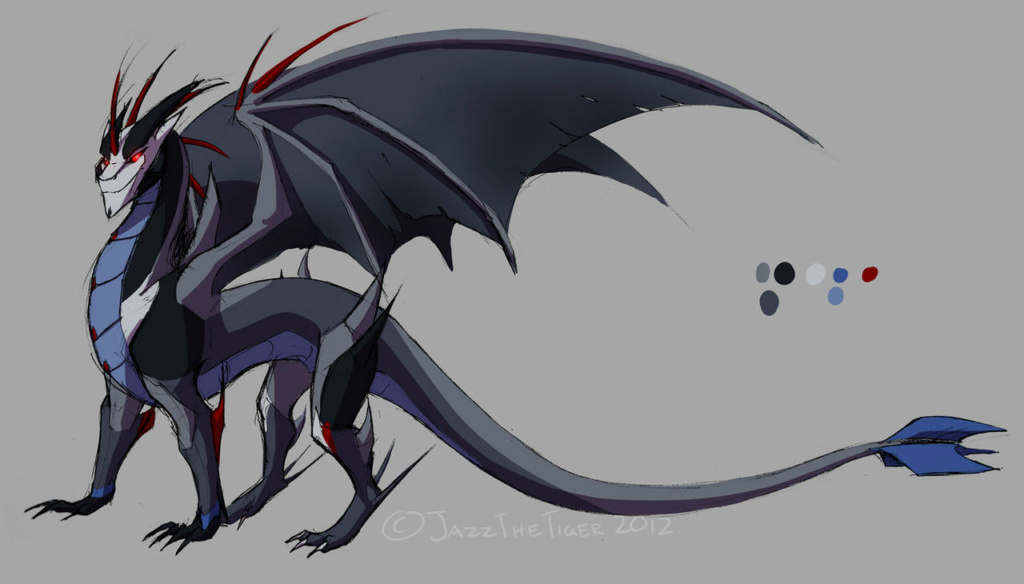 Type of Character:
Dragon
Link to Character List Page:
https://www.rpgdragons.com/t4862-rylatha-s-characters
Personal InfoName:
Volter (meaning
"wielder of hosts"
and
"torture"
)
Alias:
Schemer, Runt
Age:
Child
Gender:
Male
Sexuality:
Pansexual
Personality:
Volter is a prideful and manipulative creature who puts his wants and needs above all else. As the runt of the clutch, his snooty front is to conceal his insecurity, his fear of never becoming something special. He has a strong desire to become archon, if only to prove himself to his family. This is also largely due to the fact that he looks up to his father quite a lot and views him as the epitome of importance, wit, and strength. Though he desires to be archon, he would never overthrow Tenebris out of admiration and respect. However, he wouldn't think twice about throwing his siblings under the bus. This makes him quite the tattler.
Fears:
-Never being special
-Failure
Strengths:
-Volter is cunning and manipulative. It always seems like he is one step ahead of his siblings.
-What he lacks in size, he makes up for in willpower. Though he is forever salty about the notion he's inferior to his clutchmates, he is determined to prove himself. This means there is little that he can't do.
-Volter is already quite speedy for a hatchling. He can already fly at a maximum of 35 miles per hour.
Weaknesses:
-Because of his small size, Volter is quite vulnerable. Even among hatchlings, he is tiny and can easily be overpowered. An adult dragon can kill him simply by stepping on him. Most at Shadows' Refuge have learned to watch where they are stepping to prevent damaging little babies.
-He is a tattler. This makes him quite unpopular. Desperate for approval, Volter keeps an eye out on any servants, siblings, or guards breaking rules and is quick to tell on them. Despite being so young, this behavior makes it possible that he has already made enemies.
General AppearanceHeight:
2 feet (20 feet as an adult)
Scales:
Varying shades of silver with crimson spikes and a storm-blue underbelly and tailtip
Eyes:
Glowing red with black sclera
Appearance:
Volter has an appearance that is both lean and well-muscled, a medium of slender and bulky. Perhaps his much fetching feature is his pale face, a stark contrast against the darkened shades of his body. His scales have a metallic shine, making it appear as though he is armored. Volter has a unicorn-like horn at the top of his head colored red. His front feat are shaped like hands with opposable thumbs that he can grasp with. His back feet are digitigrade. His tail is long, nearly twice the length of his whole body.
Tribe Information and StatusTribe:
NightWing
Inheritance:
Purebreed
Rank:
Royal Hatchling (Inquisitor as an adult)
Family:
Tenebris, Sting (parents), Mephala, Zylah (paternal half-sisters), Paradox (paternal half-brother), Astral (sister through adoption), Cyclone and Typhoon (brother and sister through adoption), Stroud (oldest clutchmate), Dolus (youngest clutchmate), three other clutchmates
Mate:
None.
Hatchlings:
None.
Skills and AbilitiesNormal Abilities:
-Night Vision:
Volter can see in the dark in monochromatic colors.
-Shadowed Camouflage:
 Thanks to his dark colors, Volter can blend in well within darkness and the night sky.
Special Abilities:
Sonic Scream:
Volter has the ability to release an incredibly loud scream from his maw. This ability effects objects differently than it effects dragons. As a hatchling, the ability cause glass to splinter and can cause headaches in any dragon within 20 feet. It lasts for only one post.
Combat Style:
Volter considers wit to be his sharpest weapon. Instead of charging into combat head-on, he is more likely to come up with a scheme to trap and overpower his opponent.
BackgroundHistory:
Volter was hatched in the first clutch of Tenebris and Sting. His egg was the smallest, so small that his parents were concerned that it may be infertile. However, Volter emerged, not as the youngest but as the runt of the clutch. He is the smallest out of all his clutchmates.

Volter




Posts

: 3


Reputation

: 0




Baldirak Sapiens Draco

Grand Champion Y1 Earthwing King








Posts

: 2609


Reputation

: 97


Age

: 28


Location

: Wherever the Dragon Cat goes



Similar topics
---
Permissions in this forum:
You
cannot
reply to topics in this forum